After what feels like months of nothing to do, October is shaping up to be just the opposite.
My weekend kicked off Friday night with dinner, froyo, and a movie with some friends. After an amazing meal at Oyamel and a quick trip for frozen yogurt, we saw "Never Let Me Go." The three of us read the book for our book club a year ago and have been looking forward to the film adaptation ever since; it didn't disappoint.
Saturday started early, at least for me on a Saturday, with a trip to the Crafty Bastards craft fair in Adams Morgan with a friend. It's been two years since I was able to attend the fair, but it was just as good as I remembered. Though significantly larger and more crowded, too.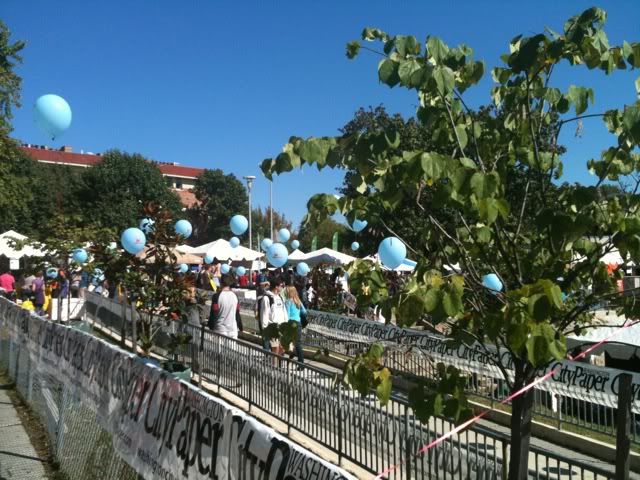 It was an absolutely beautiful fall day and to be surrounded by homemade goods and in the company of a friend made it even better. I only bought a few things, as seen below. In addition to the free bag and Etsy sticker, I purchased a lunch bag, a ring, a print, and two buttons.
The lunch bag has the Eiffel Tower on it with different facts about the various levels. The ring is made with part of a security envelope. (The vendor makes everything using the various patterns that are seen in envelopes; I never knew the variety that they come in.) The buttons have the names of two authors on them: Zadie Smith and Dorothy Parker. And the print is just of row houses, because even though I live in a boring apartment building now, I used to live in a row house and miss its character.
One particular highlight of the fair, though I'm still not entirely sure how I feel about it, were the art students drawing free caricatures or portraits. I have no interest in a caricature so my friend and I had our portraits done. While my nose is my least favorite feature in real life due to its pointiness, I don't think it's nearly as pointy as the artist made it out to be. However, as my friend said, the rest of the portrait does "have a certain Bonnie-ness" to it. Now to just figure out what to do with a portrait of myself that doesn't scream conceited.
After the fair I came home and crashed. A two-hour nap, dinner, mindless tv, terrible headache, and I was in bed before Saturday Night Live.
Sunday I made pancakes and watched Tivoed SNL before taking another nap, even though I was supposed to be cleaning. Then I took a walk to Friendship Heights to see my second movie of the weekend, "The Social Network."
I've been looking forward to this movie since the trailer came out over the summer and it too, did not disappoint. The intriguing even if not entirely true back story. Aaron Sorkin's dialogue. (Potential favorite line: "Lawyer up, asshole.") The cute actor that just so happened to be in "Never Let Me Go," too. Very good and highly recommended.
Now it's late and I"m watching the end of the Giants game. All the players on both teams have on pink gloves, pink sweat bands, pink on their hats, pink chin guards, pink towels, and pink ribbons for breast cancer awareness month. It's really beautiful.