I'm not a very religious person. To be quite honest, I'm not good at religion. Yet I've always had a Christian faith. I believe in God and Jesus and the New Testament. I have doubts, of course, and even hesitate to call myself a Christian sometimes because I just don't think I deserve to. But that's not what this is about.
In my four years at UNC I was a member of the Baptist Student Union. I was not then, nor am I now, Baptist, but neither were many of the other members. We had a campus minister, but it was really a student-led group of Christians with a passion for the faith and everything that went with it. Some had been in the church since they were born, some were new to the faith, some were exploring; all were welcome.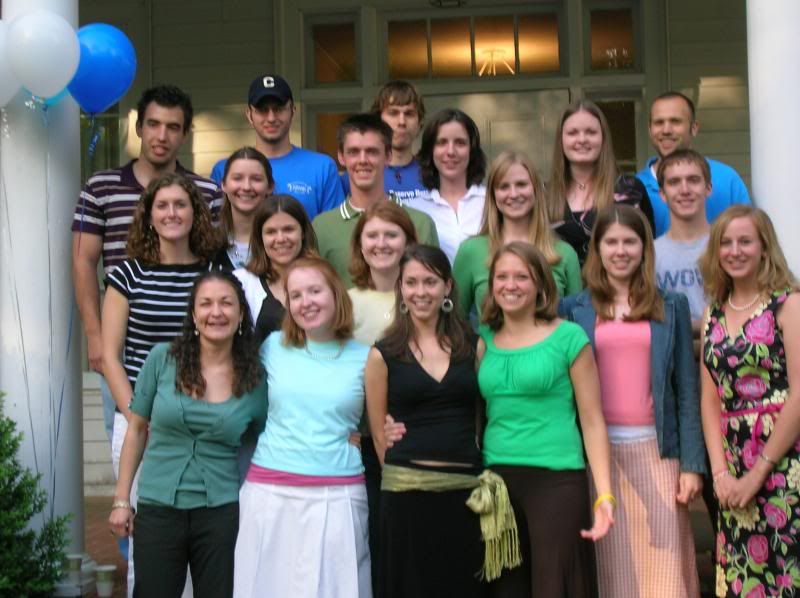 Seniors at Spring Banquet 2006
We had people passionate about missions or evangelism or leading small groups. We had people passionate about Mario Kart or intramural sports or Carolina basketball. I'm not sure I'll ever find such a passionate community of peers with such dedication to God and the community.
The heart of the organization was the Battle House, a historic home on the edge of UNC's North Campus, nestled in the trees. Some members practically lived there, stopping by before, between, after, (and sometimes during) classes to study or, more likely, goof off. I didn't spend a ton of time here outside meetings, but I have nothing but good memories of it.
The Battle House
For four years I knew where I was going to be on 5:45 on a Thursday. (The weekly worship meeting followed by dinner.) For four years I attended weekly Bible studies and got exposure to the Bible like I never had before. For four years I knew that every fall I'd be at the welcome picnic and that every spring I'd be holed up in a room working on the annual scrapbook. My senior year I was happy to serve as Communications Chair on the Leadership Council, an experience that just reiterated the passion and tolerance of my Christian peers.
Bible Study Fall 2003
There are very few college memories that are not linked to BSU in some way. Watching the 2005 National Championship game in the living room. Watching the final season of "Friends" with a small group in the TV room. Meeting my three best friends, who all came together thanks to BSU. I can't imagine my life without them. I can't imagine my college life without BSU.
This only grazes the surface of my time at BSU. So many memories are flooding back right now that it's nearly overwhelming.
Semi-Formal 2006
This was very hard to write because I've had difficulty thinking about BSU. Within about a year after we graduated, the organization changed irrevocably. Now it has a new name and is completely unrecognizable from the organization that permanently changed me, my faith, and the lives and faiths of so many others. It's because of this change that I felt my time there had become tainted. This is wrong. It's not tainted. It happened. It was good.
Senior ladies acting pensive
The North Carolina Baptist State Convention has announced a
restructuring of their organization
and an elimination of campus ministry in North Carolina as we know it. It breaks my heart to know that the students who have walked across that rocking chair filled porch, through those front doors, and into the squeaky floored foyer, have not had the same experience and will not have the same experience.
Dancing at Kranc 2004
There are so many things I want to write about this. So many things I could write about what happened to BSU after I left, and things that started before I left. I won't, though, out of respect for friends that were involved. Not, however, out of respect for those (leaders) who call themselves Christians, proclaim a desire to be Christ-like, and then show anything but Christ-like love and compassion.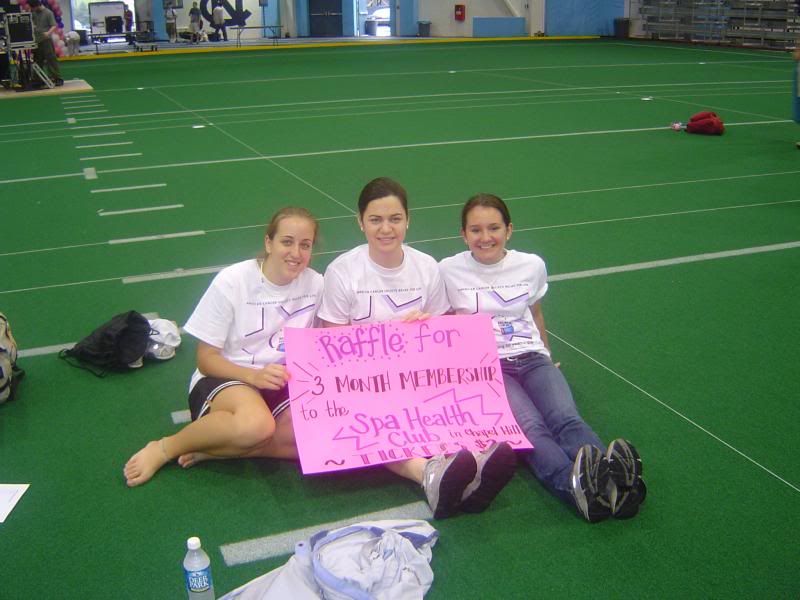 Relay for Life 2005
Each spring at BSU we would have a spring banquet. The highlights of the event were the skits the undergraduates would perform for the graduating seniors, and the skits the seniors would perform for undergraduates. Then the seniors would each get a turn to speak about their time at BSU, give advice for those left behind, etc. I don't remember what I said, only that it was said through happy tears.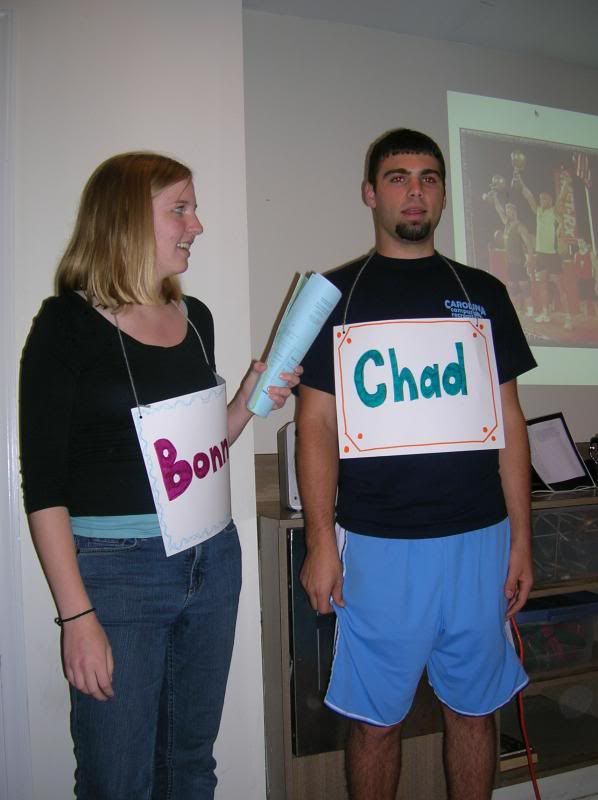 Elizabeth as me at Spring Banquet 2006
Finally, each senior is presented with a sketch of the Battle House. We all knew it was coming, had seen the three classes of seniors come before us get the same thing, but it still meant so much. My sketch got a little water damaged during one of the skits, but it's still suitable for framing.
Door was always open
Except, before I got around to framing it, all the changes happened and looking at it left a sour taste in my mouth. Now I want to frame it and be reminded of four of the greatest years of my life. To be reminded of what a Christian community can and should look like.