I'm alive! I'm alive! And I should be alive for a while since my crazy project is (more or less) over. It was so much work and so much stress, but overall I was happy with the product and thought it was a good experience. Until this week when it came crashing down a bit and now I want to use certain people's names/faces as targets on a dart board.
But I'm trying not to think about that because it really is just the nature of the line of work I'm in. I sound very adult saying that but truth be told there was some holding back tears, biting my tongue, and partaking in comfort shopping the past few weeks.
I feel like it's been so long since I wrote anything substantial, I almost don't remember how to do it. I hate that. So I'll start small. Very small. And I'll start selfish.
This is what I wore today. I ordered new boots on Monday thanks to a crazy sale at Bloomingdale's and the assistance of my Mom. They were delivered yesterday and I love them like a child. (Also wearing a Gap dress I bought at a consignment store and clock hand* earrings I made.)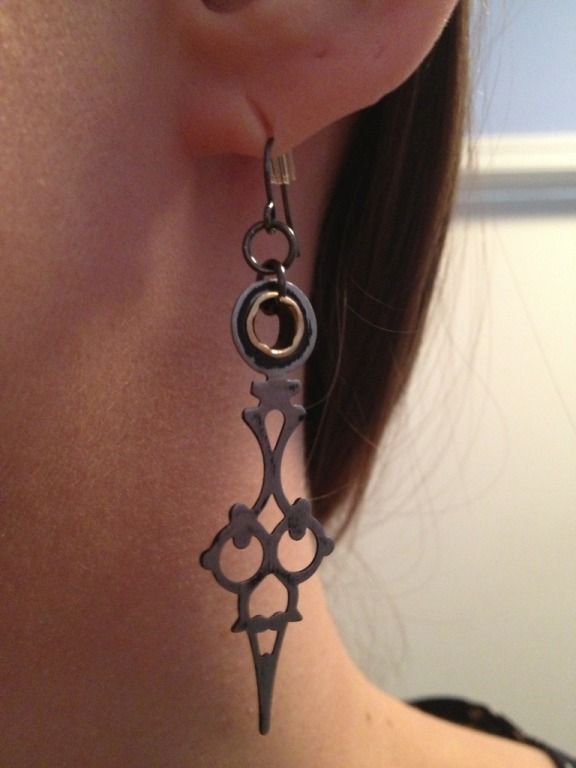 Can I brag about the boots? They were originally more than $300 and I got them for just over $100. I'm more of a clothes person than a shoe person but, seriously, I get why people spend hundreds on shoes now. (Though my feet are quite sore now, I hope I just need to break them in.)
Now to counteract some of this vanity. I spent so much time on the computer and typing on the crazy project that my left wrist started hurting. I've self-diagnosed myself with a little carpal tunnel and had to buy a wrist brace. Yep, I've been rocking this super sexy thing most of the work day. And then at night for the bowling league I joined.***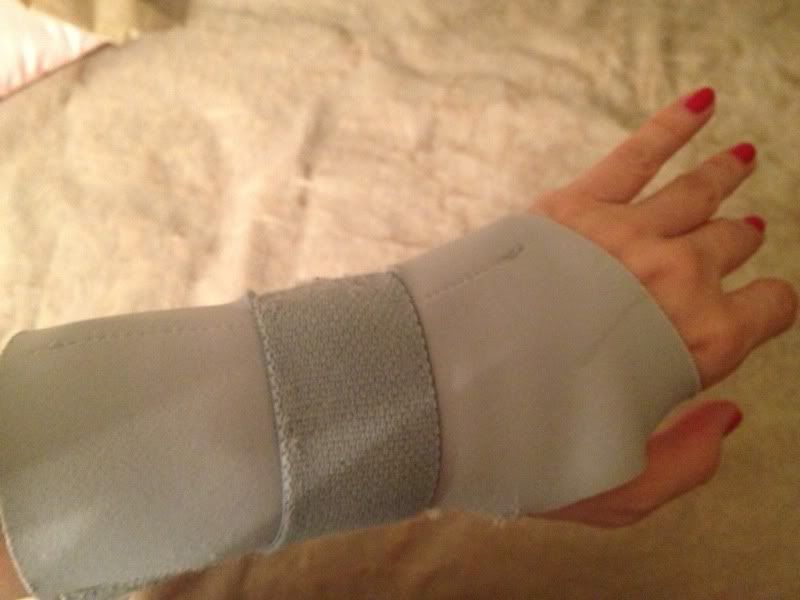 *For the wedding shower my sister and I threw for our almost sister-in-law -- which I will blog about -- I ordered 60 clock hands off Ebay for use in one of the favors. They were delivered late so now I have 60 clock hands to work with. So if you have a desire for some clock hands, let me know.
**Wow you can tell how torn my earring holes are. They've been like that since I was a kid, I think because I slept in earrings one night and got them caught on a pillowcase. I'm so used to buying mostly post earrings and never buying heavy ones that I forget how bad they are. I'll get them fixed, one day.
***Ha, no. Have I ever written about my disdain for bowling? I should.