I worked from home on Friday because I didn't feel good. Luckily it hasn't progressed beyond a sore throat and sporadic stuffiness, but I sound like Kathleen Turner.
I went out with Brandie and had too much fun, thus preventing me from doing anything I was supposed to do on Saturday.
I've bought myself things at Banana Republic and Paper Source instead of buying Christmas gifts.
Making Christmas gifts and decorations = crazy messy apartment. Especially the dining room table. (See below.)
Instead of buying peppermints for my advent calendar, I'm using leftover candy corn. (Also see below.)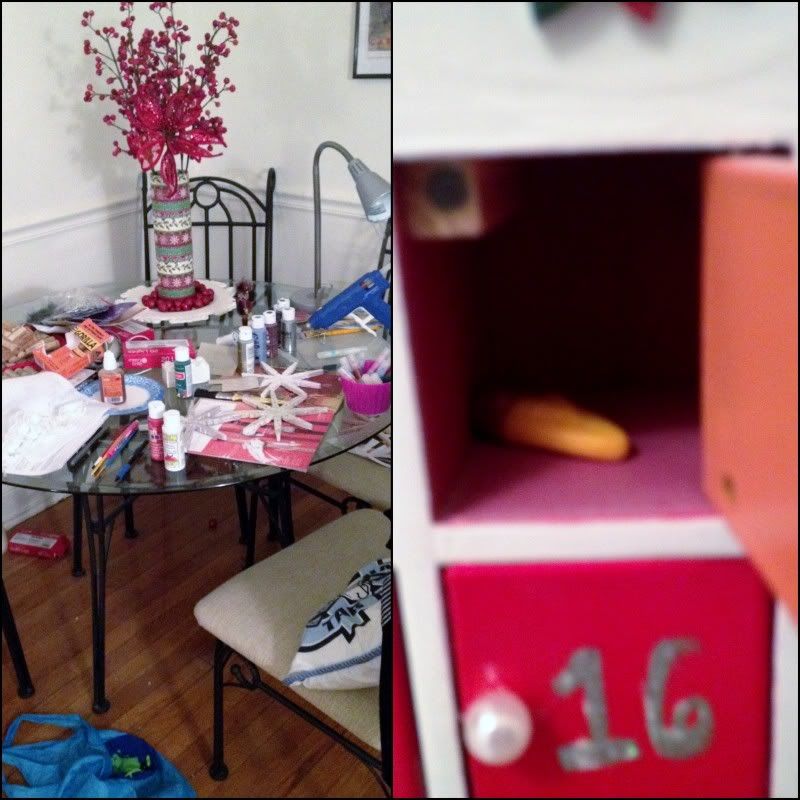 I have so much I want to do and see this season but all I am doing instead is watching "Homeland." Which is unbelievably good while also being unbelievably stressful and disconcerting.
I've always been an "I need four seasons" kind of lady, but these last two days of 60 degree weather is making me realize I really am more of an "I need one week in each of the four seasons that is that season, but the rest can all in the sixties" kind of lady.
For the first time in years I can listen to "I'll Be Home For Christmas" without crying and I don't know what that means. (Though I'm hoping it means it's just not making me cry yet.)
I need this tea towel, yesterday:
I thought I was making progress on my last things to blog about list, but now I'm not so sure:

My jury duty experience
Capitol tour with mom and her sisters
Wii night with the ladies
Pumpkin carving party
Hurricane Sandy
Work Halloween party
Various happenings: New office, award, Lauren's birthday, etc.
Old theatre
Things that are and aren't worth the money
Thoughts on energy and healthy eating
Thoughts on anxiety
Thanksgiving
The time I used a saw
Night out with Brandie
Pinterest party
Christmas decorations

This wasn't the original intent of this post and I can't remember what it was.