Note: After just 7 years of having this blog, I finally figured out how to reply directly to a comment. So if you leave one, I'll reply. Promise! (How you get those replies, I don't know, you'll have to figure that out.)
Several months ago I saw an ad in a metro station that said "When you believe more, you sleep less."
I couldn't remember what the ad was for, but when googling for this post, I came across this picture: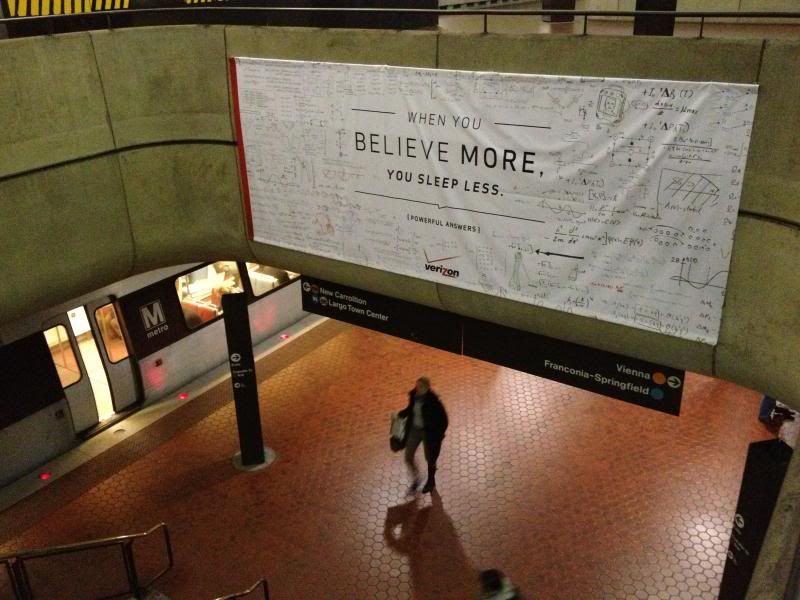 Apparently it's for Verizon. Since I have so much trouble sleeping, I began pondering this.
I think A LOT. My brain doesn't stop. I believe (see!) I've talked about this before. It's not like I'm thinking of theorems or medical cures, most of the time it's really mundane stuff. Because of the hamster-stuck-on-a-wheel brain of mine, I examine my feelings and thoughts on a variety of subjects a lot. I definitely lose sleep often because of over-thinking things. Or, maybe, I lose sleep because I believe? That's a sad thought. I think I'll take belief over sleep any day.
Now, in no particular order, a few things I believe in:
God
Feminism
Hard work
Everything happens for a reason
Not everyone is meant to be with someone else
Marriage equality
Racial equality
Gender equality
Redistribution of wealth
Democracy
Socialism in theory not practice
America isn't the best country in the world just the loudest
Ross and Rachel were on a break
Saturday Night Live will never be cancelled
Baseball should only be 5 innings
There's no way paper beats rock
Holding grudges
Friendship
Words
Imagination
Creativity
Logic
Intelligence making you beautiful
UNC basketball
Heaven will be a lot like Chapel Hill
That in the end those who are fair and just and dedicated will come out on top
Photo source