I have been trying to finish this post since Saturday evening. Grr...
Saturday I saw the play
The Year of Magical Thinking
at the Studio Theatre in DC. Though I was nearly deterred due to a severe rain and lightning storm, I was able to wait it out at a Starbucks before standing in line for my pay-what-you-can tickets.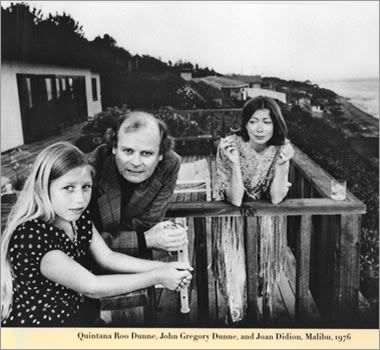 I first read Joan Didion's book -- about the death of her husband and illness of her daughter -- several years ago and loved it. I've been relatively blessed thus far in my life when it comes to loss, so I am removed enough to handle books on grieving like hers, C.S. Lewis'
A Grief Observed,
or Gloria Vanderbilt's
A Mother's Story
.
It was just one actress playing Didion on a small stage with scenery that didn't change. As much as I love sweeping musicals with huge production numbers, my favorite shows have been smaller productions, usually dramas, with fewer than four people. The only other one-person show I've seen was
Underneath the Lintel
with Richard Schiff in London. It's still in my top five of plays I've ever seen, though, I actually probably think about it more than all of them.
This one was good, though not perfect. As much as I loved the book, I just wasn't that impressed with how it translated to the stage. And while the actress was very talented, and even resembled Didion, I didn't feel a very strong connection to her. And since the subject is so emotionally charged, this was disappointing.
(This also may have been influenced by the twin pillars of Annoying Theatre-Goers I was wedged between. They each immediately staked their claim to the armrests, and then some, intruding into my bubble so as to make me curl into myself to escape their fleshly elbows and too-long shirt sleeves. The one on the left kept making a gurgling sound as if he were choking on his tongue, while the one on the right kept shooting me sideways glances, not sure why. Oh, and the one on the left wasn't actually choking on his tongue. I'm not so cruel as to ignore someone having a crisis.)
And that's that. Next show will be
Spring Awakening
, I think, unless something else catches my eye first.