Reason #426 why I love America. Because we live in a place where someone can walk into an office at Warner Brothers and pitch the following idea:
"So, I say we take Michael Jordan, perhaps the greatest basketball player that ever lived, have him sucked into a hole in a golf course and transported to another planet, where he engages in an epic basketball game for the freedom of Earth against evil monstars from a planet called Moron Mountain, which is basically just an amusement park. Patrick Ewing and Charles Barkley will make appearances, but early on they'll have their talent sucked out, so they're just secondary characters. Oh, and did I mention that MJ's teammates will be the Looney Tunes? I think Bugs Bunny might be kind of hard to get, he's a bit of a diva, but Foghorn Leghorn and Tweety Bird are super excited for it. You mean I didn't mention that? Well, how about his other two teammates will be Bill Murray and the postman from Seinfeld? You're sold? You'll give me a couple million to create the best movie to meld live action, animation, and basketball in the history of the world? And my mom said I wouldn't make anything of myself watching cartoons and eating swiss cake rolls all day!"
There is a fine line between madness and brilliance. Thank goodness WB erred on the side of brilliance.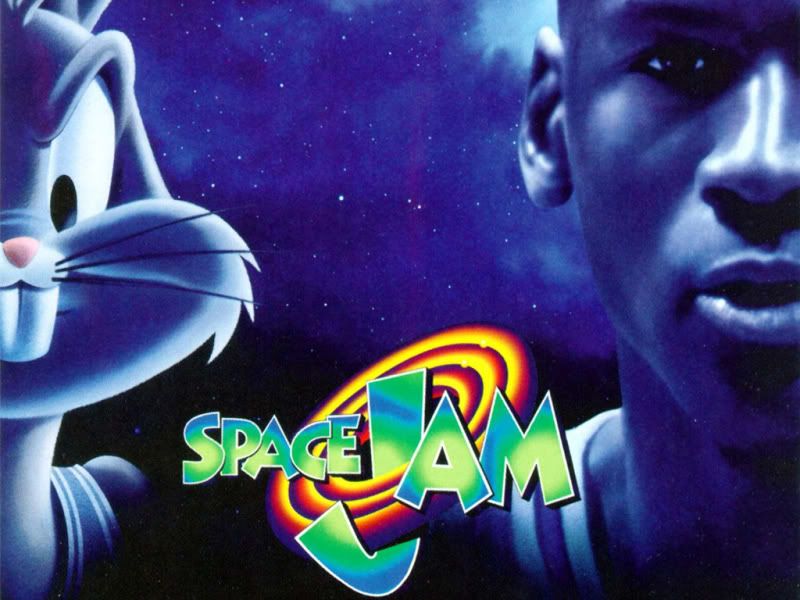 I might need to add this movie to my list of what an acid trip would be like. Except, I totally love it. I was shocked to discover I didn't own it and ordered it from Half.com last week. Last night, as we celebrated Wine Wednesday, I forced the Jam-mocking roommate to watch it – and love it. (Still working on the last part.)

Maybe it was the two bellinis and two glasses of wine talking, but I decided it's a highly underrated film. I mean, I think there are some subtle undertones about identity, teamwork, and loyalty. It begins with Michael quitting basketball to play baseball, a move for which he is mocked, but he stayed true to himself, and that's a good lesson for kids. MJ and the Toons and the old white guys all band together and even though they think they'll lose, play like a team. And fighting for your country/planet against an outside enemy looking to enslave you? That's just patriotic.
[My love for it also might have like 15% to do with the North Carolina references. The opening set in Wilmington, the clips of him playing b-ball at UNC, and of course, Bugs and Daffy's quest to get his North Carolina shorts, worn under his uniform at every game. (I think I might have taken my obsessive love for all things UNC to another level if I get excited for millisecond references such as these.)]
And I have just written if not eloquently, at least passionately, about Space Jam. I think my work here is done.