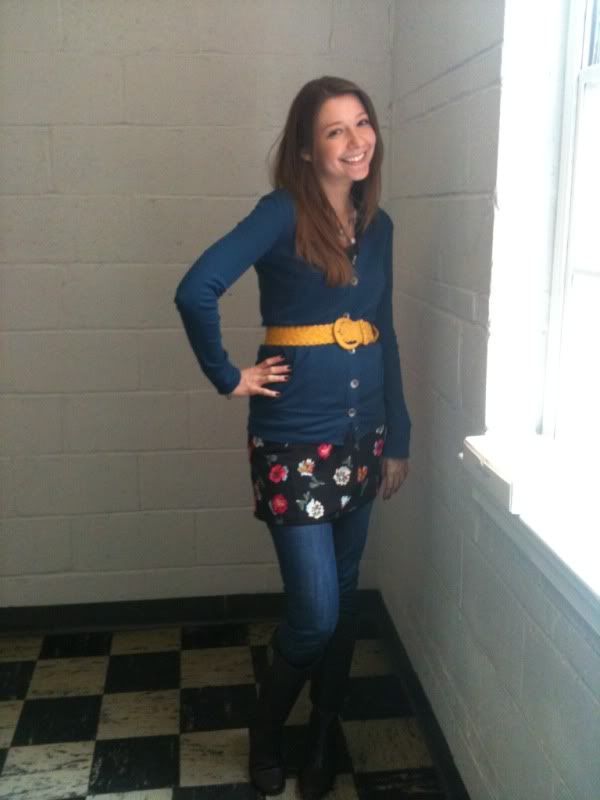 Cardigan: Gap
Shirt/dress: Tucker for Target
Belt: Urban Outfitters
Jeans: Paper, Denim, and Cloth
Boots: Belk
Necklace: Forever 21
This week's photos courtesy of my work friend and fellow blogger, Gloria. Location courtesy of the stairwell outside my office. Cheesy smiles and awkward arms courtesy of me. And maybe my parents. Genetics, after all.
This shirt is technically a dress. Yeah, that will never happen. Especially since I'm convinced that spring is never getting here. We had some snow on Sunday and there may be sleet tonite. Both were described as "light" or a "dusting," but a week into spring, there should not be any!
I have nothing of note to add. The past two weeks have been very busy with work, juggling projects and deadlines. Last week I spent two days at a photo and video shoot. It was exhausting and stressful but seeing words I wrote read by actors and shots I thought of being photographed is, admittedly, kind of neat.
But to counter the neat, after the first shoot I lost two SmarTrip (metro fare) cards in the span of one hour and two trains. Each with $20 on them. Two. And my UNC card holder. This is also eerily reminiscent of the week in December where I lost one card and broke another. Though the lost one did eventually turn up. But is now lost again.
And that's that.