Except this past Saturday wasn't so much of a fight. (Unless fight=lay down and die.) In case you missed it, this happened:
Thank you,
Did Duke Win?.com
. (Though, to be more accurate, maybe we should have a separate domain for Did Duke Get Annihilated?.com Or, even better, Did Duke Get Annihilated On Their Home Turf And Did A Bunch Of Crazies Cry?.com.)
After last month's devastating loss -- still heartbroken, still don't want to talk about it -- we had high hopes for Saturday's rematch. The roommate/bff/fellow Tar Heel, Karey, and I set out for our other bff/fellow Tar Heel Brandie's place on Saturday night to watch the game.
Both decked out in our Carolina gear, we got on the metro and sat in two seats facing each other, beside two boys. We each immediately noticed that vomit-inducing shade of royal blue peaking out of their jackets. But we didn't say anything. I saw the one beside Karey notice my Carolina socks, but still, he didn't say anything. We continued like this for six metro stops before they got off, I shot them a nasty look, and then Karey and I burst out laughing. Sometimes, D.C. is just too small.
We didn't think to take a picture, but I've created this artistic interpretation to fully set the scene.
Thankfully that was the closest we got to Dookies that night, which was closer than Duke ever got to Carolina in points. Which was closer than Duke was ever able to get to the basket. Which was closer than Duke ever got to hitting a majority of their three pointers, field goals, or free thows.
I took this picture during halftime. It's hard to read, but the little stat box is titled "Duke's First Half Woes." That's right, not stats, but WOES. As I'm a classy Tar Heel I will say nothing more.
This was also taken during halftime. We wanted photographic evidence of what Carolina Girls look like when their team has twice as many points as Duke.
We got a little tense when they got within 15, but good prevailed over evil and Roy's Boys did what they came to do.
Other things that happened:
We had Bojangles for dinner.
And wine.
We also took a sip of wine every time a Duke player flopped. I know you know what I mean.

As a result we were really happy all night. However, was that the wine? Was it the beating Duke part? Was it the Bojangles, the chips and dip, the girl scout cookies, and the peeps? Was it three best friends hanging out? I'll have to answer all of the above.

We re-created the game with a good old fashioned Peeps Duel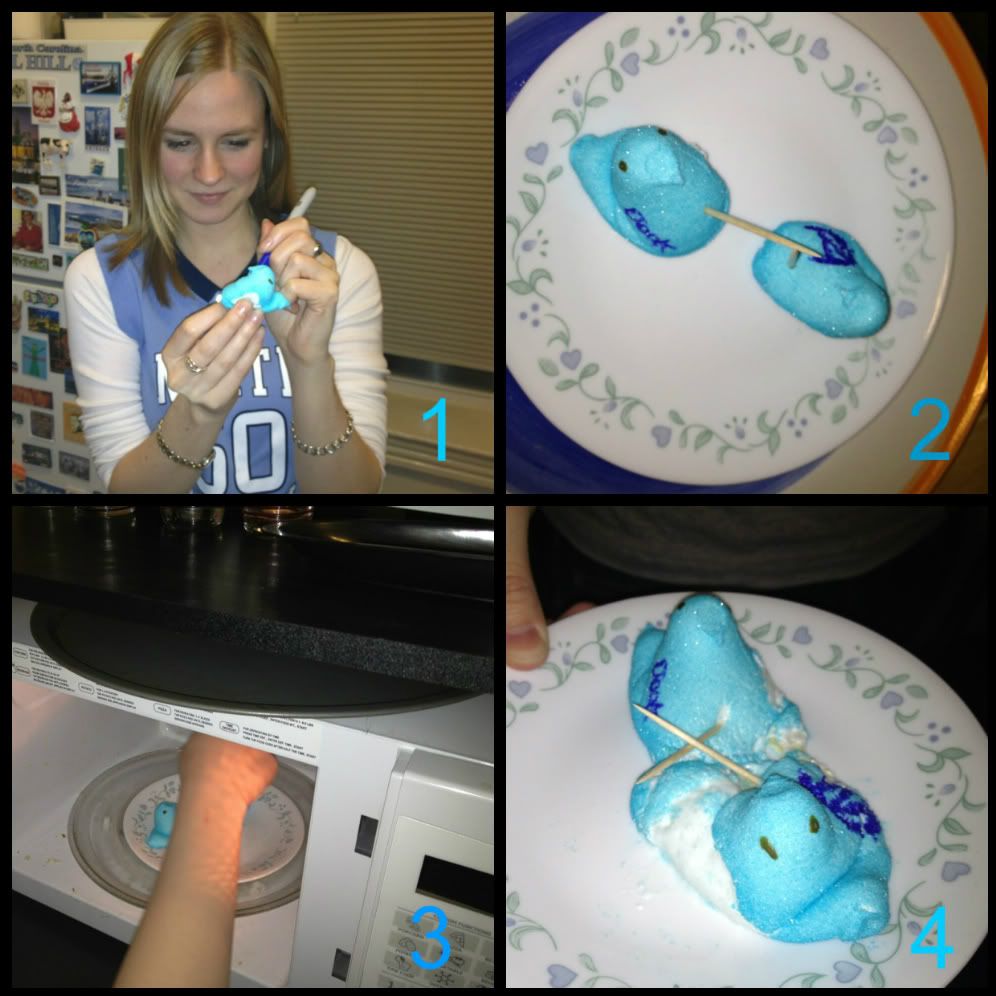 Karey marks the UNC peep.

Peep Duel: Dook v. UNC

Brandie pauses the duel to re-align the swords. The refs look the other way.

Another UNC victory! While the UNC one expanded to twice its size -- much like our halftime lead -- the Dook peep, curiously, barely expanded at all. It clearly had a pact with the (blue) devil, too.
And just for fun, our first Peeps Duel, circa spring 2006, when we were undergrads: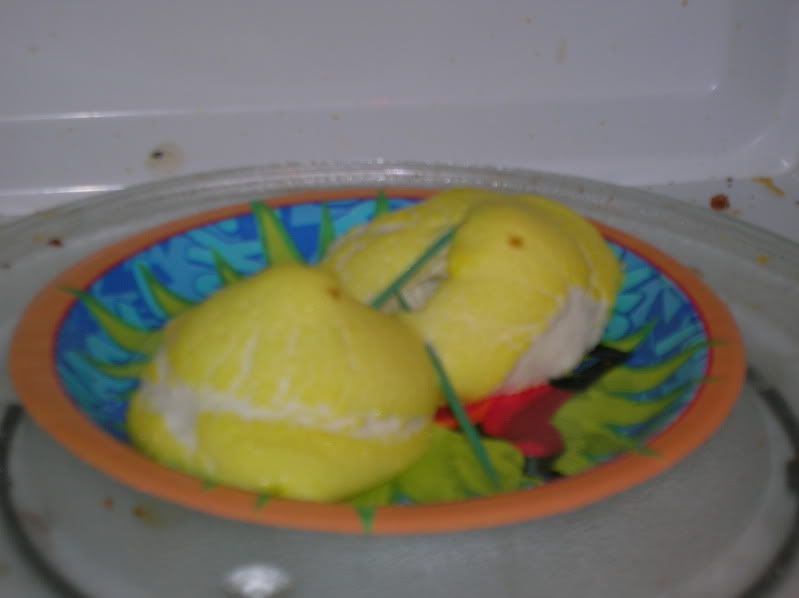 It was a good night all around. (Unless you were a Dookie or a Dook Peep.)
In closing, as part of the pre-game, I wore this shirt to work on Friday. Because nothing says professional like an angry ram on your chest. (And I may or may not plan on wearing the same shirt this Friday for the ACC tourney.)