This weekend was the perfect mix of activity and relaxation.
Friday
Went to the Kennedy Center to catch their free 6 p.m. performance. They do a free performance every day on their Millennium Stage and I haven't been in awhile. This show was some interpretive dance which was only alright, but I love any chance to do something different.

Walked back to Foggy Bottom and took the bus to Tenleytown. I'm getting pretty good at navigating the city via bus. It's cheaper and less stressful than the metro and lets me see so much more of the city.

Called mom while walking from Tenleytown to my apartment since it was a slightly different route than I'm used to. Mom will tell you I got lost but really it was just my bearings that got lost a little when I forgot you have to cross Nebraska before Reno. Obviously.

Got home, changed into my jammies, and had leftover Chinese food on the couch while watching mindless TV.
Saturday
Took my time in the morning and then headed out (via bus) to my favorite thrift store. I got a silk blouse for $3 and a brand new Target jacket/top for $12.

Headed to Friendship Heights to grab lunch (Panera), hunt for Halloween accessories (no luck), and browse some stores (bought nothing).

Walked back to the apartment to relax and then shower and get fancy before dinner with Brandie.

Ate at a great Italian place in Eastern Market where we split a cheese/meat tray and a bottle of wine. I also had spinach cannelloni and tiramisu. Despite stuffing ourselves we were still happy/tipsy enough to have a very enjoyable walk back to her apartment. And thanks to having trouble finding a cab and then ending up on metro anyway, I didn't crash into bed until 2 a.m.

Took one picture the entire weekend, in the metro, of my new leopard heels. Part of my Mighty Life List is to be comfortable walking in heels. I made myself wear these from the metro to B's apartment, from there to dinner, and then from dinner back to her apartment. My ankles hate me. Though I did switch to flats during the hunt for a cab and yet again lost my shoe in the crosswalk. For the sixth time?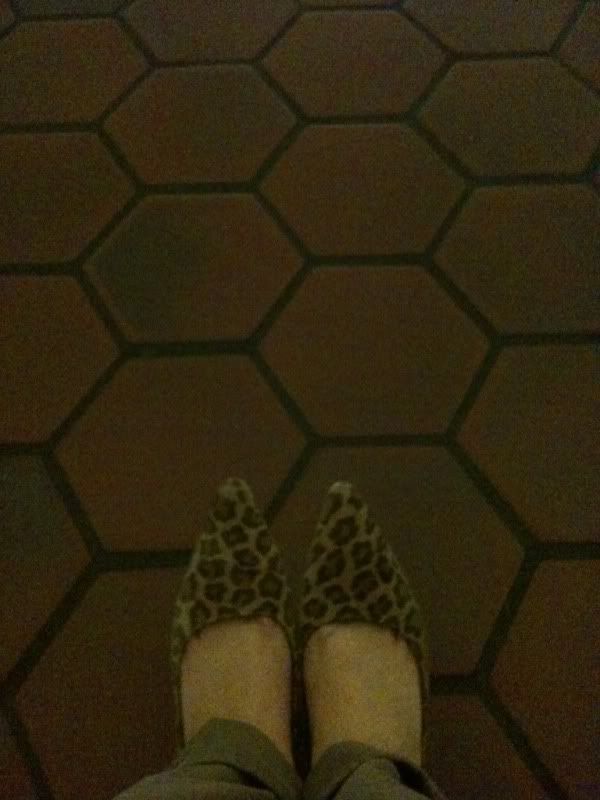 Sunday
Woke before 9 -- despite not going to bed until 2 and waking up at 4:30 -- and started reading my book for book club.

Stayed on couch most of day reading my book and watching football. (Though I did clean bathroom and vacuum living room.)
Random tidbits
My neighborhood gets really into decorating for Halloween. I saw at least five front yard graveyards on Saturday.

I very strongly dislike Tim Tebow.

The Saints scored 62 points against the Colts. 62 points in a football game. I still can't believe this.

Sort of like how Clemson scored 59 points on my Tar Heels. (But at least we also put up 35.)