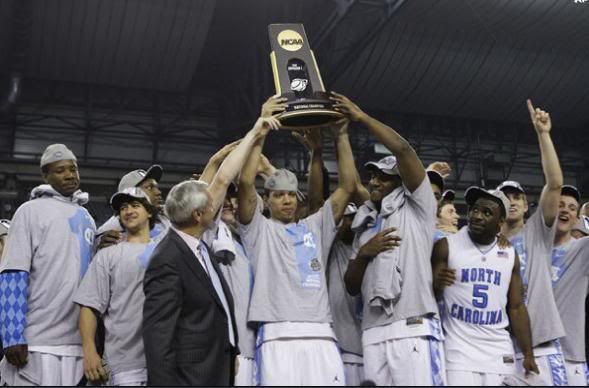 Because it's my blog, a little me in the midst of the MADNESS and HAPPINESS and JOY at 2 a.m. to try and explain it all...
When I was 6 years old, I decided I was going to go to UNC...
When I was 18 years old, my parents, after suffering through 5+ years of teenage angst and stress, came to my high school to take me out of class and present me with the acceptance letter that would validate approximately 12 years of stress and put me on the road that would change my life...
When I was 21 years old, in the middle of a semester that found the bell jar descending day after day for seemingly no reason at all, my home away from home's basketball team won a national championship game that for some reason had the power to make me remember why I love what I love and do what I do...
When I was 22 years old, the place I loved that held the people I adored made me leave, i.e. graduate, and I knew I'd never be the same...
When I was 25 years old, I had a great job and a great home and a good life and my team won again and somehow the motion of putting an orange ball in a white basket reminded me of how much I still want to do and have left to do...and just how damn lucky I am...
I can write and write and write and I will never be able to explain the hold that this place has over me...congratulations, boys, you beyond deserve it. I will go and do and you will always have the power to make me burst into tears and scream with joy and not care that it's 2 a.m. and I have to wake for work in six hours.
To Tyler and Ty and Danny and Wayne and Deon and Bobby and Ed and ROY and oh my goodness everyone...#1 BABY!!!!
No one deserves it or wants or will enjoy it more than ya'll. Ahhh...you did it!!!