Last week I bought my smartest purchase ever: black Wellies from Gap. (And they rang up as
Wellies
on the receipt, not
rain boots
, so it's not me being
faux
-British. Except that, like
quite
a few British words, their word is far superior to ours so I would call them that anyway.)
Mine look a lot like these, except with a hot pink lining. And yes, it does make a difference.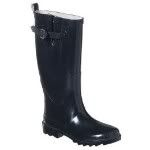 I should have bought a pair years ago. College would have been vastly different, and far drier, with a pair of these babies. I wore them yesterday to see the Cherry Blossoms, since the Tidal Basin was muddy and
puddley
and yucky. And I wore them today on my way to work in the torrential downpour. And I did not have to ring out my jeans, dry off my shoes with paper towels, or buy new socks. I was so happy about dry feet that I went and bought a bagel...in the rain!
So thank you Gap, for having them in my size and on sale for $5. And thank you especially to the
Duke of Wellington
, for deciding it wasn't enough to defeat
Napoleon
at Waterloo or twice serve as Prime Minister. No, you would have dry feet as well.