I won't say much because I don't want to upset my family that reads this, but on Friday my family had to put down Dimples, one of our border collies. It wasn't expected.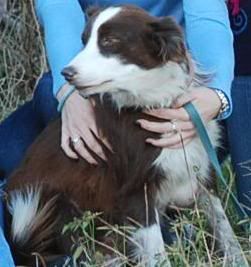 She and her sister, Peanut, have been in our family for 10 years. She truly was just a wonderful dog. Whereas Peanut is like a human and makes you work for her love--and holds a grudge while she's at it--Dimples just loved everyone. Yes, she was skittish, with the sound of her own butt hitting the floor scaring her sometimes. And yes, she was a bit of a ditz. But she also had the happiest smile, sweetest demeanor, and most intense tail wagging you've ever seen in a dog.
She was also my New Year's Eve company last year and I'll be hard pressed to find a more loving date anytime soon.