There is something infinitely soothing to me in repetition. In the past year I've learned about the religious use and tradition of
labyrinths
. They seem to be a good physical manifestation of the notion of repetitive soothing. This description from
St. Luke's Episcopal Church in Bethesda
explains it well:
The labyrinth has a single path for walking into and returning from the center. Unlike a maze, the labyrinth has no false turns or blind alleys. You cannot get lost.
Start at the entrance and let go of your cares and concerns. Walk silently, at your own pace, pausing for reflection whenever you wish. Be open to any insight or guidance you receive.
The end of the first graph almost takes my breath away:
"No false turns or blind alleys. You cannot get lost."
It's this safe predictability that repetition offers that is so appealing. At least the way I practice it. No surprises, no wrong turns, just the same action over and over again.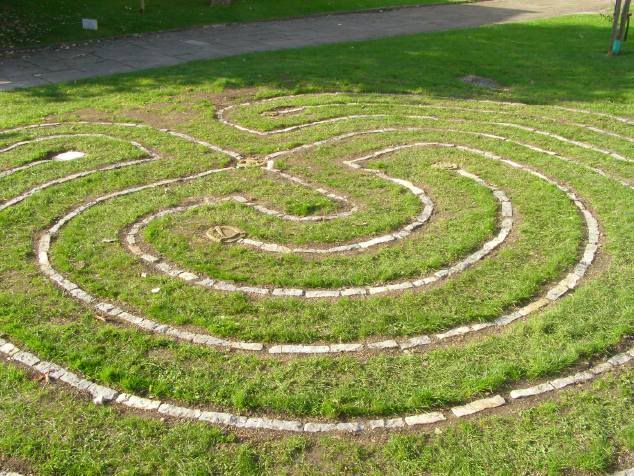 My repetitive habits can cure almost anything. Counting words in sentences or letters in words over and over when nervous or stressed. Tapping the buttons on a remote control, counting 1 to 100, again and again. Tracing the stones set in the shape of a "B" in a plaster coaster my sister made until zoning out. Playing the same song for days on end until the words barely register.
Last week I heard her brother's version for the first time, which I also love, but this week I'm just obsessed with hers. Despite the title and lyrics, I find it far more beautiful and soothing than sad and depressing. Maybe because I have the more upbeat Keys or other Ronson versions to switch too if needed.
Because of course I have multiple versions. My Covers playlist on iTunes is currently more than 200 strong, with the leaders being "
Hallelujah
" with 12 and "
Carolina in my Mind
" with eight. On the off chance I grow weary of one version, I can switch to another and repeat the process.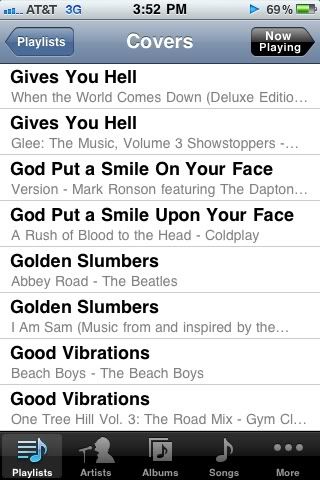 Some might consider all of this just OCD. Which, I'm sure to some degree it is. But I think the existence and spiritual properties of the labyrinth show that I'm not the only one to find peace in doing again, and again, and again. Repetition: It's good for the soul. Or at least it's good for mine.
Labyrinth photo from
here
.